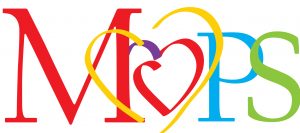 What is MOPS?
MOPS is a grassroots movement that believes mums are world influencers…
We believe that incubating hearts and giving just-because-hugs can change the course of history. That's why we connect mums all over the world to a community of women, in their own neighborhoods, who meet together to laugh, cry and embrace the journey of motherhood. MOPS groups are rallying women to be more honest, to feel more equipped and to find our identity by journeying alongside one another.
MOPS stands for Mothers of Preschoolers, and by preschoolers we mean kiddos from birth through kindergarten. We know it's a little confusing so let's just stick with "MOPS."
We are mums, and we believe that better mums make a better world.
MOPS Toulouse meets on the second and fourth Thursday of the month during term time.
'We are the Starry Eyed' is the MOPS theme for 2016/2017.   Starry Eyed means looking for the light even when darkness is enveloping. It is an opportunity to hope recklessly and to witness God's presence guiding things seen and unseen, comfortable and uncomfortable.
This year we will run wildly toward wonder, hope and kindness because We Are the Starry Eyed and we choose to see the light – together.  We meet from 9.30-11.30am for refreshments, a parenting talk and discussion.  It's very informal, and small children are very welcome to join us and play whilst we chat.
More information at www.MOPS.org